Clever, customisable storage for your clothes is fast becoming a must-have in homes.
Why? A well-organised wardrobe makes life easier.
Like most rooms in our homes, design ideas are ever-expanding as we think of new and creative ways to make our homes more functional (and more beautiful).
What was once a humble cupboard for hanging a handful of clothes can now be a cleverly customised set of storage solutions for stowing away everything from your jewellery to your shoes.
From the aesthetic of your wardrobes to how you set-up your space, there is a lot to think about. However, one thing is certain; there are plenty of benefits to designing your wardrobes.
The benefits of designing custom robes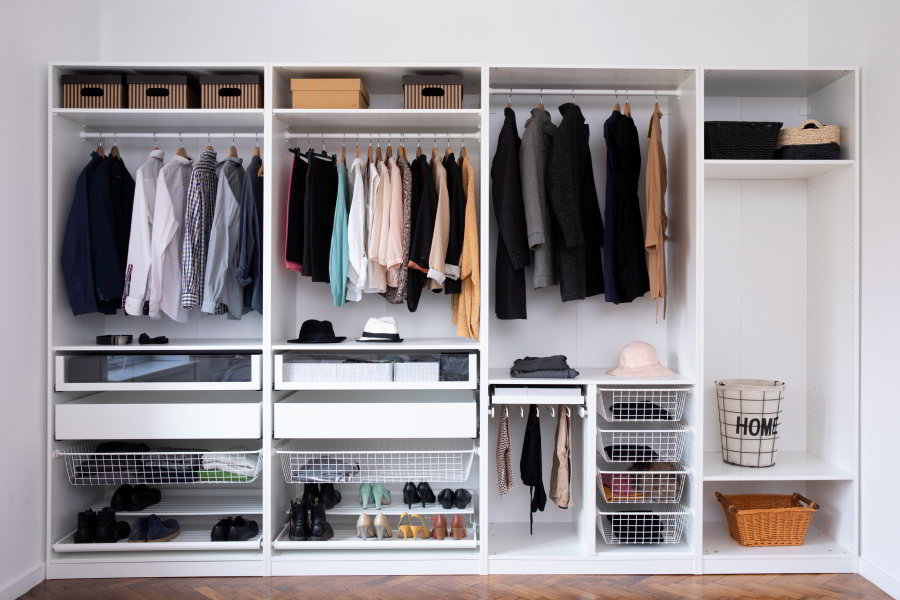 Not sure whether custom wardrobes are for you? Here are some great benefits to choosing custom storage for your clothes.
Your storage will complement your clothes
Custom robes allow you to assess your wardrobe and design storage solutions that suit what you actually own.
For example, if you own 50 pairs of shoes and only two pairs of trousers, there's probably no point in incorporating a trouser rack. However, you'll want to ensure you have shoe racks a-plenty.
Your storage solution will suit your style
A custom wardrobe gives you the chance to incorporate storage that suits your taste and the look and feel of your home.
You don't have to spend hours trawling the internet trying to find a free-standing wardrobe that will compliment your style or décor, you can design your storage to your own taste.
Custom storage adds value to your home
Custom and built-in storage is a plus-point when it comes to the resale of your home, making it a good investment for now and the future.
Well-designed, quality storage is long-lasting
Quality built cabinetry is likely to last far longer than a free-standing piece, making it a cost-effective choice for your clothes.
Custom wardrobes can save space
Well-designed cabinetry can be a real space-saver.
When considering a standard size, pre-made wardrobe for your home, you have to ensure the robe fits the space, often this will dictate where you can position your wardrobe (and the rest of your furniture).
With custom wardrobes, where you'd like your wardrobe positioned in your home is up to you! You can even utilise awkward angles and 'dead-spaces'.
Well-designed storage is more functional
Arguably the most important benefit – custom wardrobes make life easier and more enjoyable!
You can design a storage solution that's entirely custom to you, your belongings and your lifestyle, making your clothes and accessories easier to find and care for.
8 thing to consider when designing your wardrobe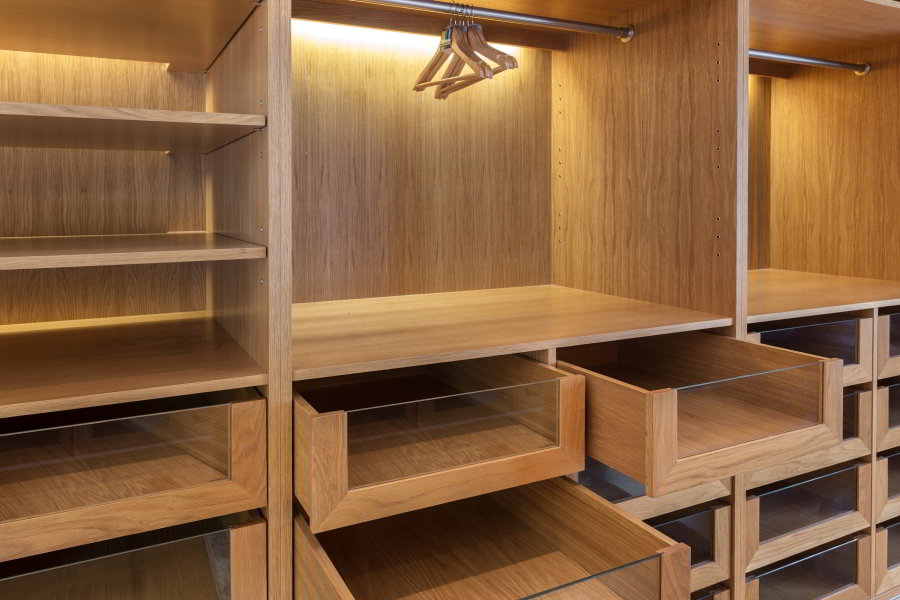 Designing your own wardrobe is an exciting project for anyone who appreciates the fine art of organisation.
Don't have regrets with the final product and make sure you consider the following 8 things to achieve your dream wardrobe.
1. The contents of your current wardrobe
Assessing your wardrobe is an essential first step to getting your storage right.
Is your current storage solution too small? What area of your existing wardrobe do you need to expand?
Ensure you plan for the future; if your shoe collection is only likely to increase, incorporate it into your plans.
2. The space and position for your custom robe
How much space you have for your wardrobes will play a big part in the design.
However, smaller spaces don't necessarily mean less storage.
There are so many innovative space-saving options for wardrobe storage such as double hanging rails, adding a shelf above the hanging rail, adding hooks to the inside of doors and incorporating shoe storage.
3. Your seasonal storage needs
The whole point of custom wardrobe storage is for it to be functional. You want to be able to find what you're looking for and have enough space to put everything away without fighting with your clothes.
Incorporating space for all those clothes you won't be wearing until the temperature rises or drops is a great way to ensure the wardrobe's maximum functionality.
4. The layout of your room
Custom robes don't necessarily have to be built-in; however, whether you're designing a free-standing or built-in robe considering its position in your room is important.
Wardrobes are significant furniture pieces you don't want to be moving around often (if ever).
Consider the layout of your room and the best place for your custom robe.
5. The types of storage you need
Thinking about the types of clothes you have or even just your personal preference for hanging or folding will help you decide on the type of internal storage that will work best for you.
Hanging space up high and drawers or pigeonholes below is a great way to maximise space and ensure you have a variety of storage options.
6. The style of door (if any)
Your custom robe's aesthetic is just as important as storage solutions, and the door fronts are something to think about.
Considering your space, you may opt for sliding doors, bi-fold options, or maybe even keep the storage space open for easy access.
7. Lighting
Depending on your design choices and where your custom robe is positioned, you might want to consider your lighting needs.
Incorporating lighting into your custom robe can take the design to the next level and may well be a very practical choice for your space.
8. Your budget
Budget will always play a part in the decisions you make for your custom robe.
The materials you use, scale and complexity of the design, and whether you self-install or pay for professional installation will impact your budget.
How to get your custom wardrobe project started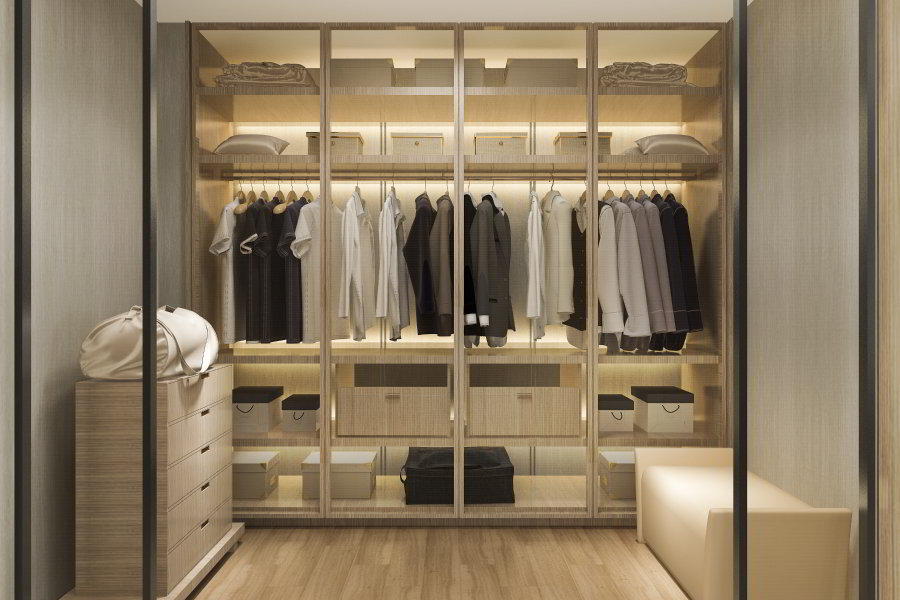 After reading this post and considering all there is to designing your custom robes, it's time to start.
Proform supply flat-pack, self-install wardrobed, built-in, and custom options, meaning your wardrobe storage needs are covered.
You can talk through your plans or upload details of your plans on our contact page.
Not sure where to start?
We offer a free in-house design service where we can talk through design options, offer guidance on materials, measure up and quote your space and deliver a complimentary 3D design.
Learn more about designing custom robes with Proform.