Kitchen design is constantly evolving.
Some trends come and go, while other design features or materials last the test of time.
With travel on hold this past year, we've all spent a lot more time at home.
As we spend more time cooking and eating in, it is no surprise that people have got to thinking about their kitchens and updating the design.
There are so many facets to consider when it comes to kitchen design.
Functional choices such as the layout of your appliances and the materials for your benchtops, splashbacks and cabinets.
Then there are style options to think about, such as colour choices, hardware options and lighting.
Here are five of our favourite kitchen designs that have emerged in 2021.
1. Integrated island dining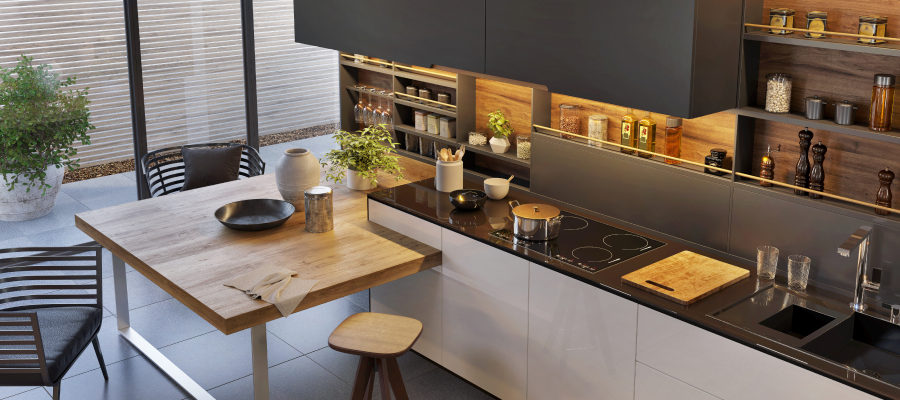 Entertaining in the kitchen is nothing new, but clever design continues to improve the experience.
Kitchen islands have been popular for a long time; they are an excellent use of space that's functional, stylish and social.
Incorporating a sit-down dining space into the island bench was the next logical step to complete the ultimate kitchen entertaining space.
We've seen so many different versions of this trend, but our favourite is a contrasting material at a slightly lower level to differentiate the prep area from the dining area.
An integrated island dining space will most definitely be the hero of your new kitchen design.
2. Mixing warm wood with dark tones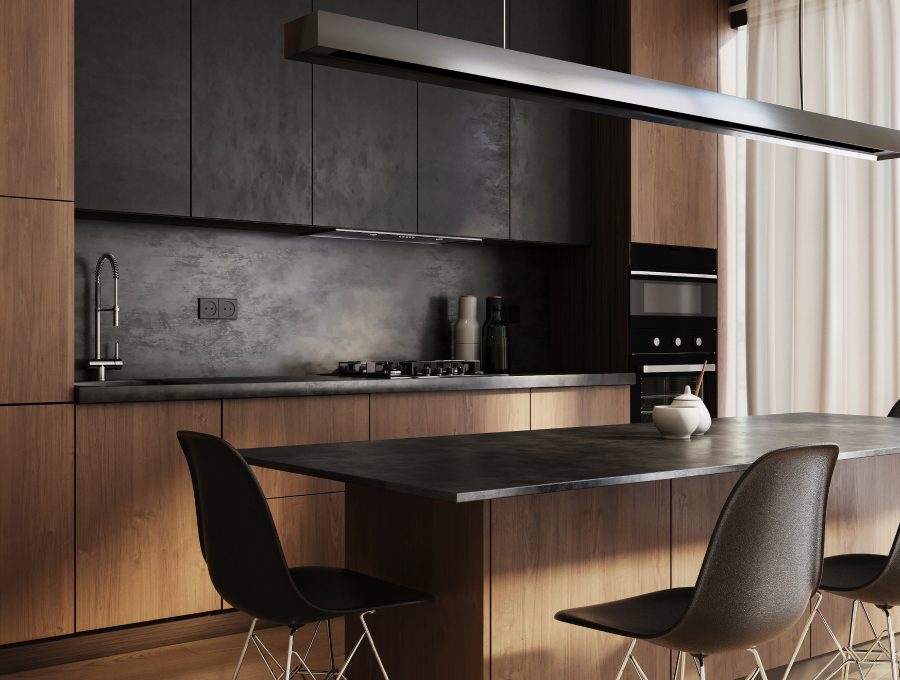 Wooden benchtops and cabinets come in and out of vogue when it comes to kitchen aesthetics.
We're happy to say wood is back in style.
We love the light and warm wood finishes we see on modern style cabinets.
Mixing these light tones with dark and moody colours gives such a contemporary finish. We can see this trend sticking around.
3. Thin benchtops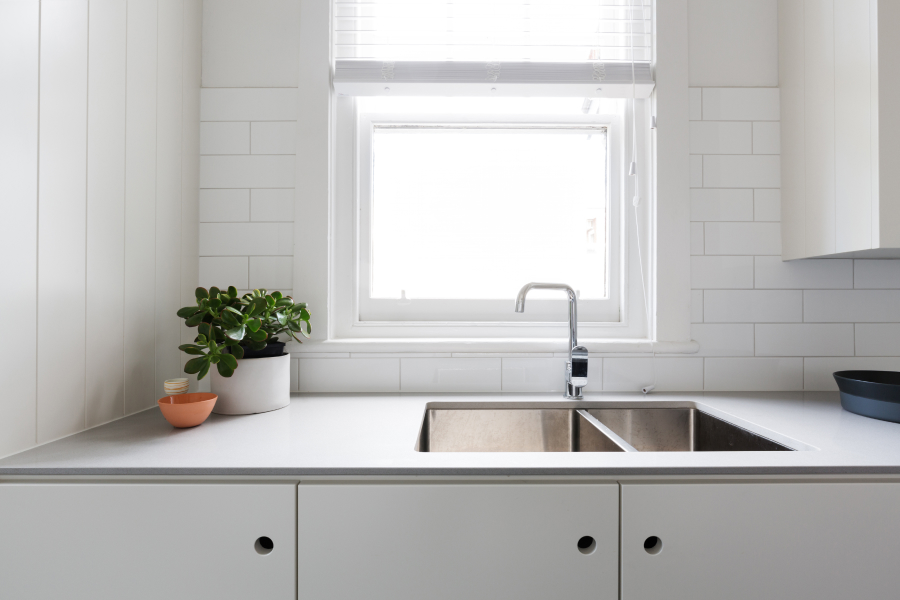 Thick, sturdy benchtops have been a kitchen staple forever.
We're big fans of a thick benchtop, but super thin benchtops are very much on-trend, and we can understand why.
Thin porcelain panels offer such a luxury feel and can be mitred to seamlessly incorporate a matching splashback and even shelving.
4. Window splashbacks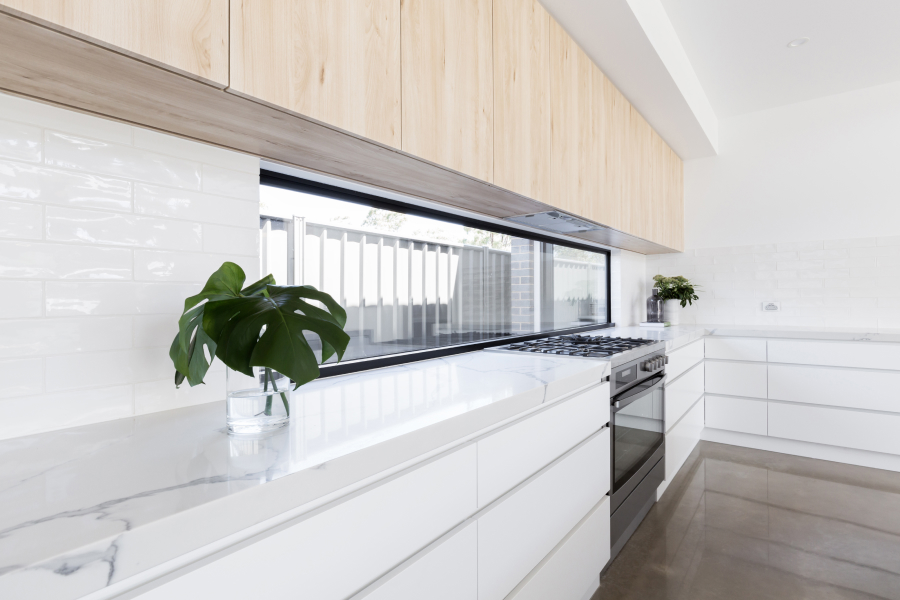 You can never have too much light in the kitchen.
Window splashbacks are such a great multi-functional design feature.
Glass is an excellent wipe-clean surface that brings in that much-needed light.
If you're thinking about incorporating a window splashback, consider the outlook. If you've got great views, a window splashback is a great choice.
5. Floor to ceiling cabinetry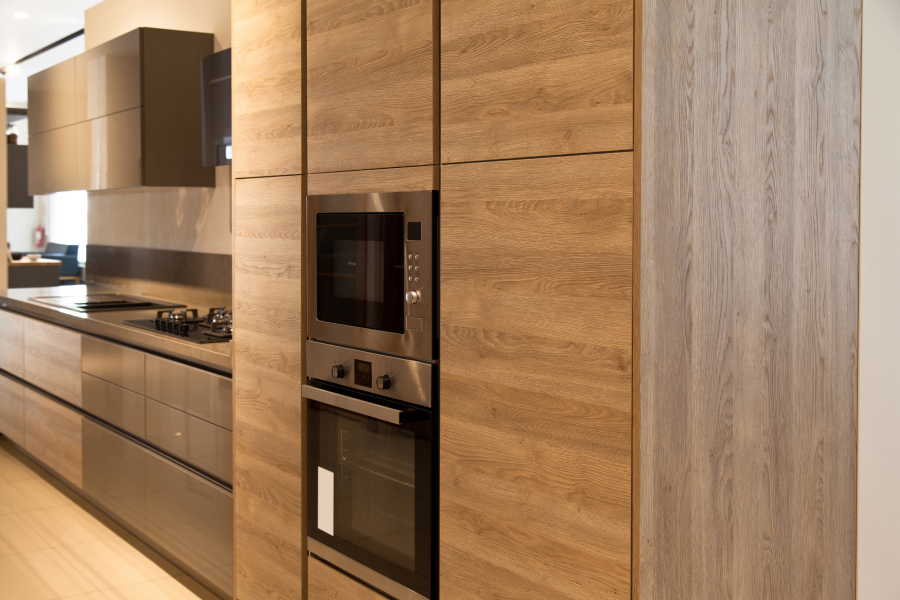 You can never have too much storage space in the kitchen, and this design trend is the perfect solution to hiding away all your kitchen clutter. 
Built-in, concealed, floor-to-ceiling cabinetry maximises storage space while being extremely sleek.
Hardware-free cabinet doors take the minimalist aesthetic to the next level, creating a functional feature wall.
Are you looking to update your kitchen?
If you're ready to redesign your kitchen, the team at our Malaga showroom can help.
We offer a complimentary design service that includes a showroom consultation and measuring service, layout and joinery solutions advice, 3-D mock-up of your design and itemised quote.
Learn more.